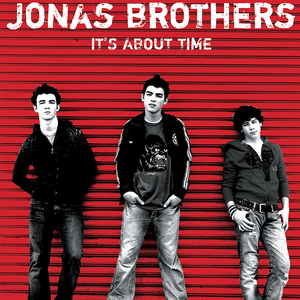 Album: It's About Time
Artist: Jonas Brothers
Release Date:
Album Tracks:
It's About Time is the debut studio album from the Jonas Brothers. It was released in August 8, 2006 on Columbia Records. The album was successful in the Christian genre and was released in Christian bookstores through INO Records. Later an amended version of the album was released through Daylight Records with three songs removed and replaced by three others. A DualDisc of this version of the album was also released. The album is currently out of print, and copies of it are rare and bring high prices, but both versions can be available on eBay and on digital download. One of the songs on the album, "Time for Me to Fly", was featured in the film "Aquamarine" in 2006. "Mandy" was the first single and was released in the American on December 27, 2005. The song had a 3 part video and rose to #4 on TRL.[citation needed] The song was written about a friend and was featured on Zoey 101: Music Mix, the soundtrack for the show, Zoey 101, and featured in the TV movie, Spring Break-Up. After Columbia Records dropped the group from their roster list, they signed with Hollywood. Hollywood received the rights to distribute the single "Year 3000" which was also released on the group's first Hollywood Records album. User-contributed text is available under the Creative Commons By-SA License; additional terms may apply.